In today's digital age, having a solid online presence is critical for businesses to succeed in the long run. Search engine optimization (SEO) is essential to building that online presence. While traditional SEO strategies focus on keywords, metadata, and link building, advances in artificial intelligence (AI) have opened up new opportunities for optimizing content and use ChatGPT for SEO.
| Category | ChatGPT for SEO Features |
| --- | --- |
| Keyword Research | Generate keyword lists and search phrases focused on a niche and search intent. |
| Assisting with Paraphrasing | Help overcome writer's block by paraphrasing content efficiently and effectively. |
| Content Strategy Creation | Develop content strategies for various channels, including social media, website copy, and email marketing. |
| Fixing Coding Issues | Detect coding issues, provide error lists, and debug codes quickly and efficiently. |
| Building Regular Expressions | Assist in creating regular expressions for intensive data searches and complex reporting. |
| Generating Blog Article Ideas | Produce a list of blog article ideas based on your niche and business. |
| Copywriting | Create baseline copywriting for websites and marketing materials or improve existing text. |
| Creating Data and Infographics | Convert statistics and data into relevant images and infographics. |
| Title Tags & Meta Descriptions | Generate a list of title tags and meta descriptions to improve SEO strategy. |
| Product & Service Descriptions | Create effective product and service descriptions with proper keyword implementation. |
| Article Outlines | Develop outlines for articles with titles, subtitles, and bullet points to save time and effort. |
| Spelling & Grammar Checks | Provide last-minute spelling and grammar checks and convert writing into specific formats if needed. |
| List of FAQs | Generate a list of frequently asked questions related to your brand or business. |
| Categorize Content for Semantic SEO | Categorize content for semantic SEO by understanding the meaning and intent behind keywords. |
| Newsletter Templates | Create engaging newsletter templates for email marketing, increasing open rates, and click-through rates. |
Chat GPT for SEO Features – a table made with ChatGPT4
One of the best new developments in the AI realm is the use of language models like ChatGPT. Chatgpt can generate high-quality, optimized content to help better optimize your search engine optimization and help you become more visible online. In this article, we at Donutz Digital will explain how you can use ChatGPT to increase and boost your SEO strategy safely.
ChatGPT for SEO – 15 Ways To Use it With Examples
Keyword Research
Keywords are one of the main factors when it comes to building a successful SEO strategy for your business. Chatgpt can create a keyword list around a specific niche and search intent. Focusing on search intent and what your clients are already looking for will give you a head start above your competition.
Use Chatgpt to generate a list of specific keywords and common search phrases to start your list to build from there. Once your list is generated, do your own research to see which keywords are producing the best results and which ones to include in your content.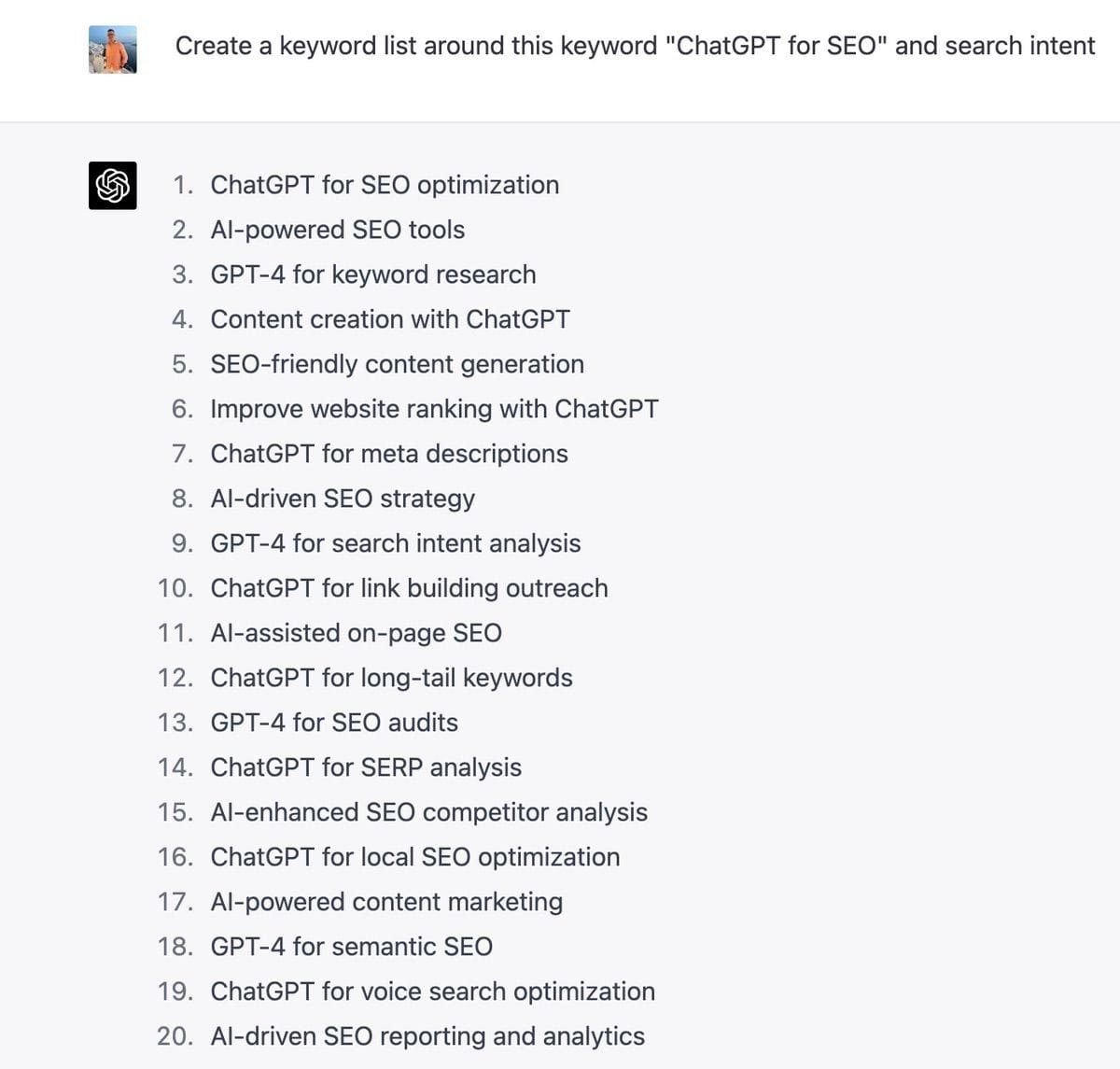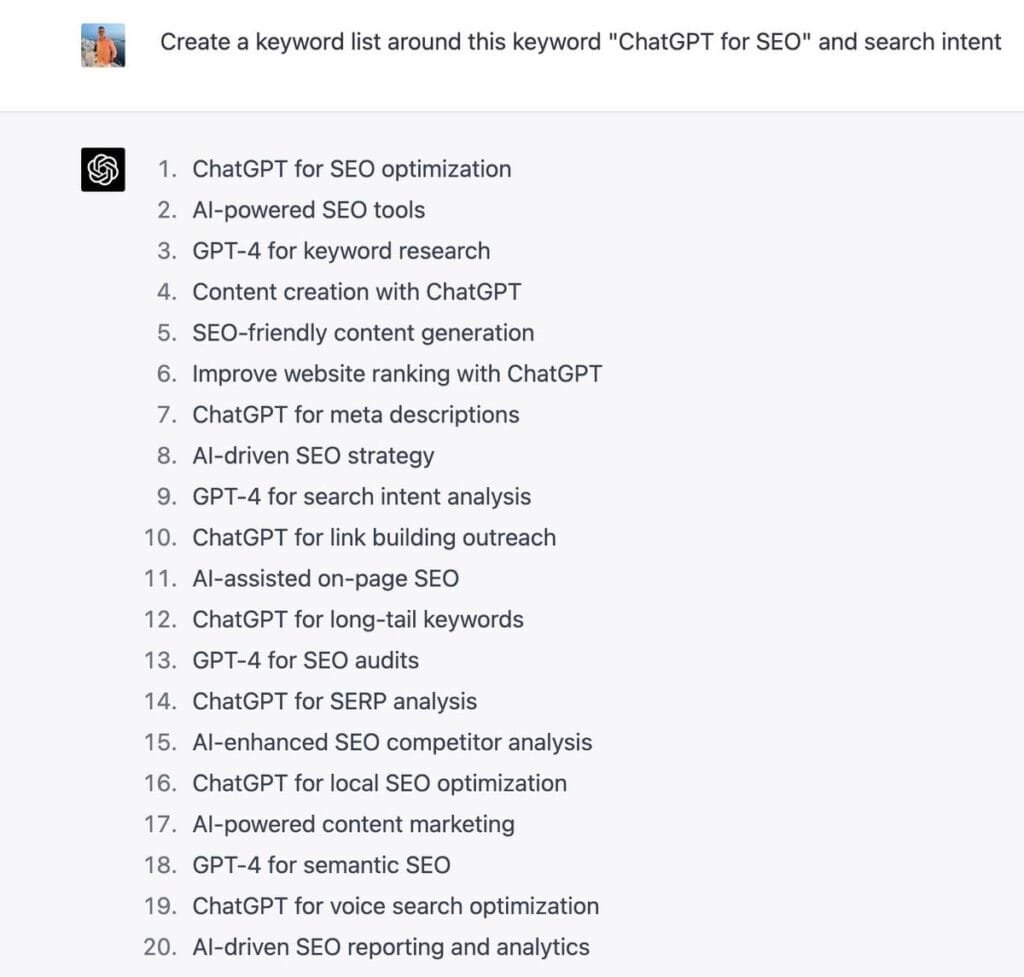 Assisting with Paraphrasing
Writer's block is one of the worst things that can happen to writers, bloggers, or content creators. Chatgpt can boost your SEO strategy and help with mental shutdown by assisting with paraphrasing.
You can use this system to identify the best way to approach a particular topic and combine critical thinking with a creative writing concept. If you are struggling to think of the exact words or phrases you need to complete your marketing sentence, using Chatgpt to paraphrase can finish the work efficiently and effectively.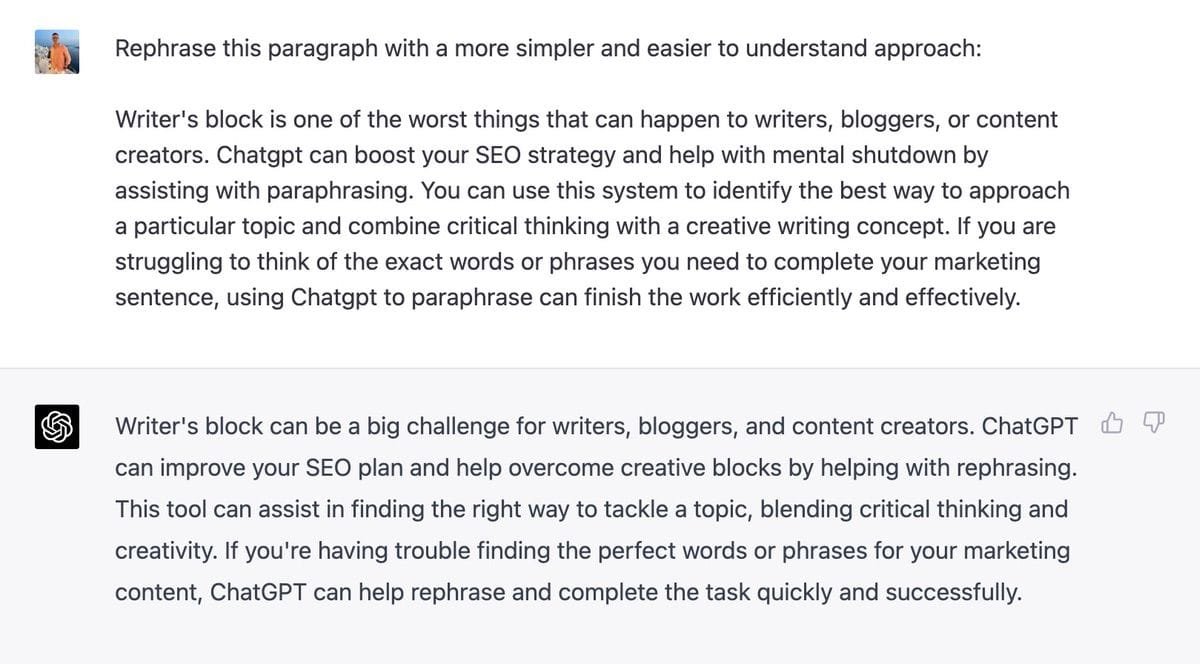 Create Content Strategy
Chatgpt can boost your SEO strategy and save you a lot of time in the long run by creating a content strategy for your business. Whether it's content for social media, website copy, email marketing, or whatever, it will only be practical and helpful when there is a strategy and intent behind your content.
Chatgpt can build a baseline strategy and create even more steps and Ideas based on the original draft. It can make it as simple or intricate as needed, boosting your search engine optimization, organization, and long-term client engagement.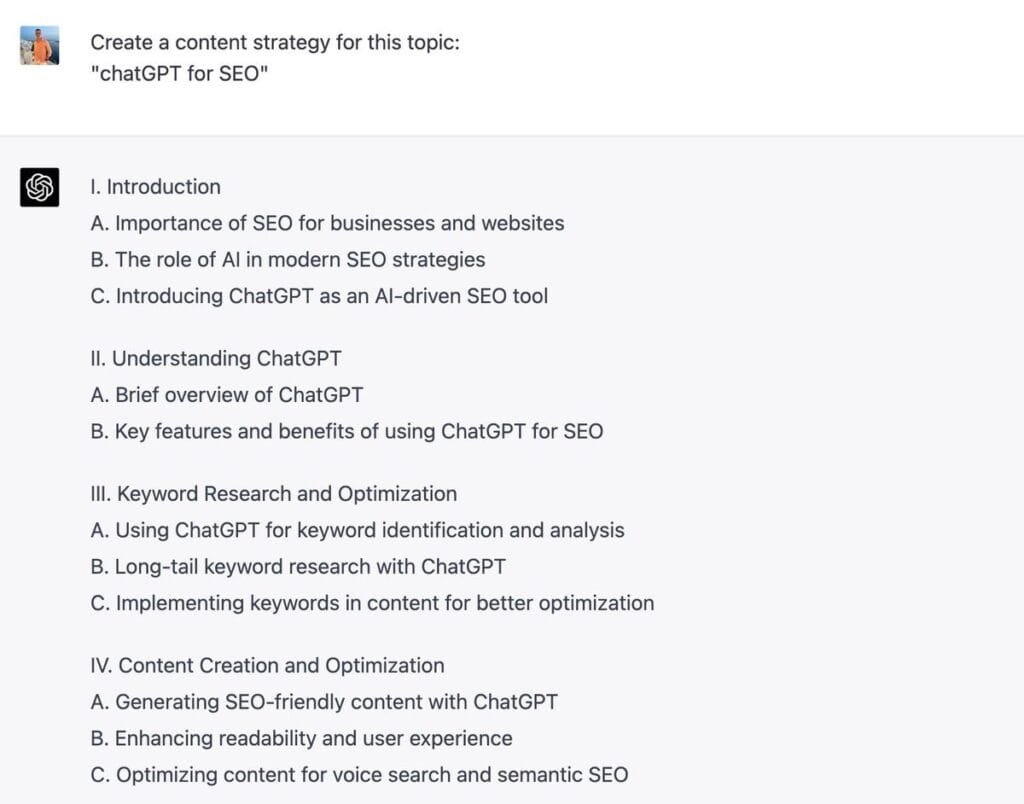 Fix Coding
Another one of the best ways you can implement Chatgot into your marketing strategy is by using it to fix and alter your code. If you aren't an advanced or experienced coder, this will be super helpful and cut out a lot of time. Even experienced coders get stuck sometimes. Chatgpt can detect any issues relating to your code, provide an error list of each case, and debug codes by sifting through hundreds of lines quickly and efficiently.
Build Regular Expressions
Chatgpt can help improve your SEO strategy by assisting in building regular expressions. A regular expression, otherwise known as a regex, is a specific programming language that can use text searches for more intensive data, case-sensitive data, and complex searches.
They can be handy for reporting purposes, allowing integration within google Analytics for specific date collections. If you are interested in learning more about regex capabilities, Chatgpt can explain the programming in even more detail.
Generate Blog Article Ideas
A blog that goes along with your business is one of the best ways to build a loyal community and keep people engaged and interested in your business. One of the best ways to use Chatgpt to boost your SEO strategy is to have it produce a list of blog article ideas.
You can develop ideas by asking it key questions and typing phrases revolving around your niche and your business. This will give you more than enough blog article ideas to start with and build on even more. It's a great starting place to add your insights, tips, opinions, and research. This method can keep consistent content being produced and effective over time.
Copywriting
How you tell your story matters, and the copy on your website and marketing developments make a big difference when attracting the right kind of clients to your business. Chatgpt can produce a baseline of copywriting for you to use to boost your SEO strategy, and then you can alter and edit the text to fit into your own personal brand. Or you can write your own text and ask ChatGpt to make it more professional, creative, and so on.
Create Data and Infographics
Conveying complex information quickly is a great strategy to use to boost your SEO. Chatgpt can use statistics and data and convert them into relevant images and infographics. Most available programs and tools require a bit of knowledge about design and hours of manual data input; Chatgpt eliminates these steps and cuts right to the chase. (check the first table in this article it was made by AI using this text you are reading right now)
Title Tags & Meta Descriptions
Chatgpt can produce a list of title tags and Meta descriptions that you can use to boost your SEO strategy. While some editing will be needed to make it match your brand and sound like the tone of voice of your business, this list created by Chatgpt is a great starting point.
Pull together elements from each of the different options produced by Chatgpt, edit and make it your own, and boost your SEO with just a few keywords and phrases.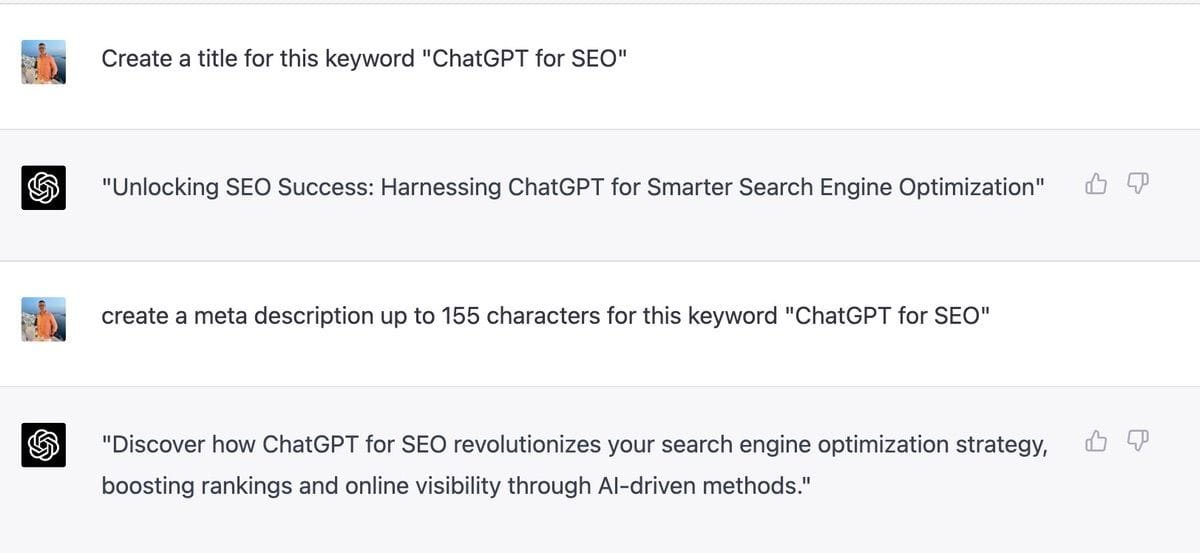 Generate Product & Service Descriptions
If you are in the e-commerce industry, product, and service descriptions are essential to your SEO and marketing strategy. While writing descriptions may seem relatively straightforward, there is a specific art to it that makes it effective when it comes to search engine optimization.
Chatgpt can create product descriptions by implementing keywords and phrases and understanding buyer awareness for each search.
Create Outlines for Articles
If you are a writer of any kind, using Chatgot to create outlines for written articles is one of the best and most convenient ways to boost your SEO. Not only can this increase your strategy, but it can also save you a lot of time by having an outline or rough shell to work off of and build upon, allowing you even more time to work on your business. Use Chaptgpt to create outlines with titles, subtitles, and bullet points, then use your research and expertise to fill in the rest.
Spelling & Grammar Checks
This is one of the greatest capabilities of Chatgpt; spelling and grammar checks. While you may already have a spelling program put to use, Chatgpt is that last-minute editor and checker that you need.
Correct grammar and spelling in your writing can greatly influence your SEO and boost your strategy. Chatgpt can also convert your writing into a specific format when needed, such as MLA or Chicago style.
Create a List of FAQs
Another great way to use Chatgpt to improve your SEO strategy is to have it create a list of the most frequently asked questions relating to your brand or business. Once you know what people are searching for, you can use that to create and build content around.
Whether it's a list of answers to these questions, going live on social media, or creating a weekly newsletter addressing the issues, your SEO can significantly improve, and your clients will get all their questions answered.
Categorize Content for Semantic SEO
If you are unfamiliar with Semantic SEO, this is where you change the focus in using not only keywords but the actual meaning and intent behind these keywords. Clients will be taken directly to your business because of the purpose behind the meaning of the keywords, not just businesses with the keywords in the name.
Chatgpt can assist in categorizing content for semantic SEO in 2 different ways. It can categorize content to help search engines understand the ideas, and it can help you avoid keyword stuffing by using synonyms and variations instead.
Create Newsletter Templates
While an email newsletter might not affect your SEO strategy, link building does, and email marketing is one of the best ways to promote your business and link your clients' interests and following to your business. Chagot can boost your SEO strategy by creating newsletter templates that will keep your followers, and clients engaged and coming back for more It can include links, call to action, freebies, and drive brand awareness to create even more business opportunities. Not only will this increase your SEO, but high open rates and CTR.
Bonus Tip – Social Media
Once you have your well-optimized SEO article published, it's time for social media, which can boost your visibility even further. Here is an example:
Frequently Asked Questions
What is ChatGPT?
ChatGPT is an AI-powered language model that helps create, optimize, and analyze content for various purposes, including SEO.
How does ChatGPT improve SEO?
ChatGPT can generate keyword lists, optimize content, create meta descriptions, and assist with various on-page and off-page SEO tasks.
Is ChatGPT suitable for beginners in SEO?
Yes, ChatGPT is user-friendly and can assist both beginners and experts in enhancing their SEO strategies.
Can ChatGPT help with content creation for SEO?
Absolutely, ChatGPT can generate SEO-friendly content, article ideas, and even help with paraphrasing existing content for better optimization.
In Conclusion
Chatgpt is an incredible AI-powered tool that can jumpstart your marketing and boost your SEO strategy by streamlining dozens of different activities. Whether you need a content strategy, assistance with writing and editing, coding, or gathering a list of important statistics, Chatgpt will be your new best friend when it comes to planning strong SEO-related content. We hope you have enjoyed this guide ChatGPT for SEO: 15 Safe Ways to Optimize Your Strategy. Please reach out to us here at Donutz Digital with any questions!